Submitting a project with a cover page attached to it has become necessary these days because of tough competition. You will find no one sending a project without a cover page. It is basically an introductory page that gives plenty of introductory details about the project you have completed.
What are economics project cover pages?
Students of economics often make a project related to this subject and then design a cover page which is known as an economics project cover page. The project can be anything like an assignment or research work. Regardless of what type of project you have worked on, whenever you have to submit your work somewhere, make sure that you use a cover page with it.
Why is having a good cover page for an economics project important?
Working hard on a project and then missing out on a good-looking cover page will not take you anywhere. Sometimes, people with average project work and exceptionally good cover pages capture more attention of the reader than those who have done immense hard work but did not pay attention to the cover page.
As a matter of fact, it has become impossible these days to submit a project on economics without a cover page. If you do so, you will make it difficult for the reader to understand you and your project easily.
Who should make the economics project cover pages?
Students or those professionals who are tasked with the completion of project work have to submit a project to an authority that assesses the kind and quality of the work and then makes a decision.
Such individuals are required to make a cover page for their project also. No one else can make a front page as effectively as a person who knows the depth of the project. Therefore, the person who does the project work should put effort to make the cover page.
]Templates]
#1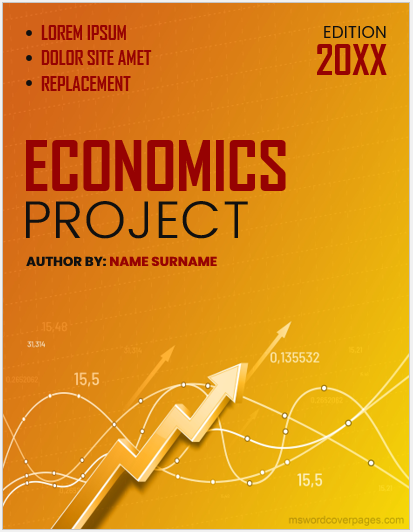 #2
#3
#4
#5
Tips for designing a project cover page for the subject of economics:
Some people think adding a cover page is just a formality and they don't do much hard work on designing one. Due to this, their project does not look attractive. If you are also concerned about making cover pages that can make your project stand out, here are the best tips to follow:
Do some research regarding the format and style:
When you are submitting your proposal, you need to be very careful as to what format you follow and how your style it. If you are a student of economics who needs to submit work done in the field of economics to the dean or professor of the institute, you should be well-informed about the format and dos and don'ts of making a cover page. Here are some useful tips for you:
Use high-quality paper:
It is needless to say that the cover is not just for introducing someone to the project of economics. It also represents you and your efforts. Using high-quality paper along with high-quality content is very important. This will show your interest in the project.
Know the requirements:
If you are submitting an economics subject proposal in academia, you will be required to know the cover page format and design requirements. Some institutes require their all students to follow the same pattern to ensure uniformity and association with the institute. You should know about such requirements beforehand.
Oftentimes, a fancy cover page does not go well with the kind of project but some students do make a fancy cover page which ruins the look of the project completely. Therefore, wrapping your head around what can go well
Know the content:
Every project cover page has unique content depending on where it is going to be submitted. You should be well-informed about the content when you are making a cover page for the project of economics subject. Sometimes, you cannot miss a specific detail because it is too important.
For example, mentioning the name of the supervisor in the research project is extremely important. If you miss it, it shows you don't give credit to the person who has helped you in completing your research work.
See also: