Advancing technology has not only improved the quality of human life but has also given products to make it more worthy and memorable. Different professions have come into being due to these inventions and have completely changed the dynamics of living within a short span of time. Capturing moments and holding onto them forever was considered a dream but it all became possible due to technology.
Pictures remind us of good old times and strengthen us to face challenges with a brave heart. They are a reminder of good times that will come back but we need to face the waters along with good times. People have collections of pictures from their life events and cherish these photos from time to time.
A portfolio cover page defines your work…
A portfolio is defined as a body of work that defines your work and art. It should comprise great work only so that it can be presented to potential employers. There are different types of portfolios, but the black and white portfolio stands out among them because of their contrast and demand among the public. Portfolios are mostly used for the presentation of the best work to acquire a job or as a token of appreciation.
Cover page as a first page…
A cover page is an important component of any document because it is the first page and provides information about the document. It is also termed a title page because it contains the title and other related information. The document can be any assignment, project, or portfolio. A cover page of a portfolio is the topmost page that gives an idea to the hiring manager about the journey they are about to embark on.
Variety of templates…
Internet and other applications provide a wide variety of template themes and designs which can be easily used after they are downloaded and edited to one's requirement. All these templates are free of cost and provide the freedom of creativity in an already established design.
Designing of the pages…
But designing one's own portfolio cover page is better because it represents their skills and expertise in the design field as well. It provides a great opportunity to showcase one's creativity and aesthetics. Creating a black and white portfolio cover page requires the following steps,
Choose an application, for designing a cover page, which provides tools for creativity.
Make a design based on the theme of the portfolio.
Instead of making abstract designs, use images and pictures to create a catchy design.
Choose the appropriate font size and style so that the text can be read easily.
Add title and other introductory information such as name, qualification, degree, name of the university from where you graduated and in which year, and your main strength.
Provide contact information to make the follow-up process easy.
Proofread the text carefully to avoid embarrassment.
A good impression…
The importance of a black and white portfolio cover page can be evaluated from the following statements,
It creates a lasting impression in the minds of hiring companies.
It grabs the attention of its reader and forces them to go through the entire portfolio.
It showcases all the skills and abilities you possess and gives an idea to hiring companies if your expertise will suit their vacancy.
1
2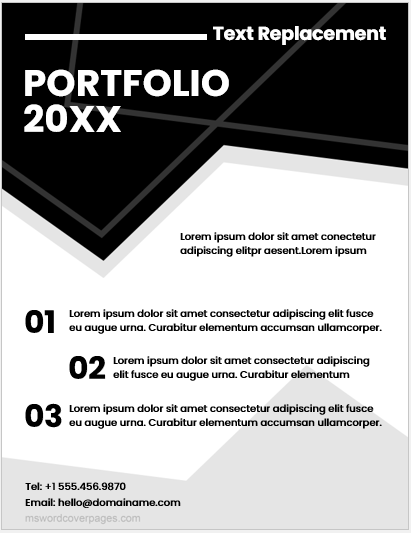 3
4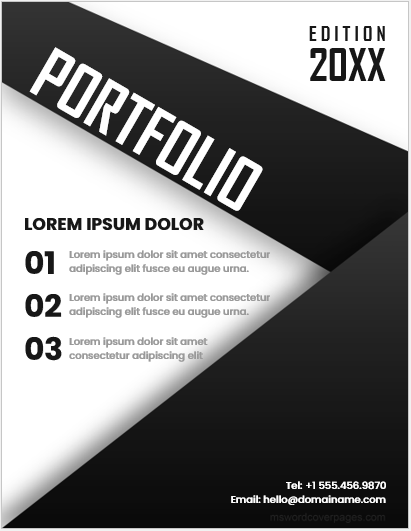 5