What is a Portfolio?
You must have heard the word 'portfolio' in your grade 5 or more. Do you remember your teacher calling to design a portfolio for your art class? What was that portfolio like? It was a collection of art pieces that you learned in your art class. Basically, a portfolio is a collection of all the contents and items that are worthy to be displayed, and your credibility and your merit can be judged. One asks for the portfolio when they are providing you a chance to display your best content, ideas, or collections.
What is a fashion portfolio?
A fashion portfolio is designed by a fashion designer. He designs it to submit to the client to display his work designs and creativity. By looking at a fashion portfolio, your client can get an idea of your work, designs, color combinations, etc. A fashion portfolio is not random or purposeless. It is selectively designed to inspire and target your client.
Following are the components of a good fashion portfolio:
Introduction to the fashion designer
Brief description of themes and type of work
Concept boards
Fashion designs
Tailored services for individuals
Fashion Portfolio Cover Page:
A fashion portfolio, just like other portfolios like academic and research portfolios, has a cover page. As it has been endorsed multiple times the cover page is always of huge importance in any portfolio or mode of communication. Remember, just like your report has a cover page and its significance is crucial, so is your fashion portfolio. You are required to learn how to design a professional portfolio cover page for your fashion portfolio.
A fashion portfolio cover page should reflect what is inside. It means to say that your inspiration for fashion and style should look outside. The cover should be in a higher mark as compared to what is inside because nobody is going to like your portfolio if they are not caught up by your cover. So, the cover should be in the best possible design.
The fashion portfolio cover must complement what your fashion portfolio is actually. It is not good for you if you have a fashion portfolio with all the designs and contents with dark make up and bold style but your cover has come in classic English style. 
See also:

Fashion design cover pages
Components of Fashion Portfolio Cover Page:
It is always better to use one of your most remarkable and signature-styled ideas or content on the cover page. It gives your brand recognition through the signature style. Your signature style must be per your theme.
Every fashion designer has a theme. Most of them have a single theme and they do not go out of that circle. If you are one of those designers, it is not encouraged to experiment with your cover.
The cover is the first impression so it must have your signature design on the front.
Another important thing to add to your fashion portfolio cover is your own name written as your signature. You can also simply write your name but the best thing to do is to write the name in a signature as it shows your style.
Volume and season should also be added to your fashion portfolio cover so that cover can indicate the time of the year or season to which this style/fashion relates. It can be sweet autumn or a cool spring book.
You are advised to hire professionals to design fashion portfolios and their covers. Communication experts are always of great knowledge in commanding how and what can be added to the cover page.
Sample Templates
1
2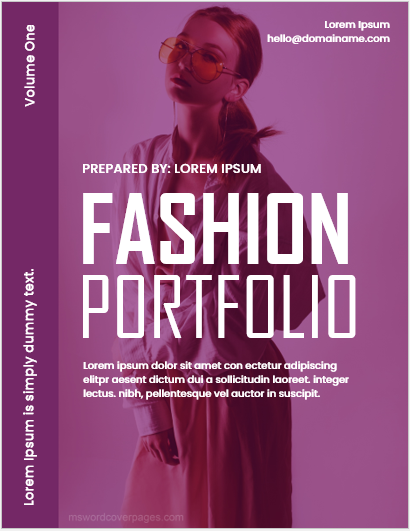 3
4
5