What is a business proposal cover page?
It is a front page of a formal document that highlights key information like company name, company logo, address, and key information. The document also holds the title of the proposal prepared by the agency.
It is the foremost page in which the company's face is present in the most professional manner by covering the company information, its objective, address and motto behind its foundation.
A business proposal cover page is written to introduce your business motto to a client, a design to map an idea or concept to bridge communication between an owner and client understanding of desired mission, keeping in view the professional approach.
It allows you to jot down powerful and elevating business pitch to capture potential clientage. An effective proposal covers executive summary and key project details of the company.
Why is it essential to design it?
The main aim of setting up a business is to promote its growth. Businessman, around the world are in dire need of ascending their services to flourish in corporate world.
A comprehensive business plan:
broadens the operational and financial objectives such as budgeting and market planning, consequently attracting clients in best manner.
outlines your business orientation.
figures out strategies to accomplish milestones you want to accomplish.
helps you identify and manage certain bumps in the road.
prioritize important tasks.
Compels you to think realistically and objectively about one's startup.
Generate leads to enquire past and future assumptions.
Makes manageable to communicate planning objectives to other businesses.
What should be included in a business proposal?
With an absolute proposal, not only you can spot potential opportunities, shortcomings and threats for their merchandising, it can assist you in up-to-date decisions about your endeavour before you pledge yourself officially or financially.
Here I have penned down some important factors to keep in mind while designing a proposal cover page:
Top-notch Abstract
Overview of business targets
Executive Ownership structure
Demonstrating products or services that the company is offering
Introducing management staff and their contributions in the making of that specific company
Convincing competitive benefits
Brief recap of your financial projections
What makes the proposal appealing?
A pleasant yet meaningful cover page fascinates the customer at his first glimpse and that is what our websites are offering; sample cover pages for the promotion of your innovative ventures. It needs to mirror the best of who you are and how do you inspire the world, be identifiable. An impressive cover page has the following attributes:
Appears neat and clean.
Sections are enlightening and well systematized, but impartially modest.
Layout is striking and gorgeous in a way that imitates the corporation or plan.
Script includes your firm logo for identification, its name, address, title of the proposal, submission deadlines and for whom the proposal is drafted.
If you choose to customize a template or want to come across a promising yet brilliantly, captivating readymade design, don't worry you are at the right place where all your requirements will be well fed, and you can discover novelty in our sample cover page collection. Many templates that have a parallel feel to your corporate sector.
Being mindful of design components that you have by now got covered up in your creative minds, we have got a tailored solution to them.
Twitch substituting items in one of the model sample with your own data. Eventually the one suited better to your specified requirements will stand out as stunning than the others.
First impression is the last impression and this rule is strictly followed by a proposal cover page. A good assessor will critically analyze the content as well, so no need to fret or overthink about your cover page. With our predesigned solutions your excessive concern for your business will be better catered.
As it is said that too much anxiety inhibits creativity. So, a tempting template is one click away from you.
#1
Cover page format: MS Word 2007 | 2010 | 2013
File Size: 979 KB
License: [Only for personal use]
Download
---
#2
Cover page format: MS Word 2007 | 2010 | 2013
File Size: 979 KB
License: [Only for personal use]
Download
---
#3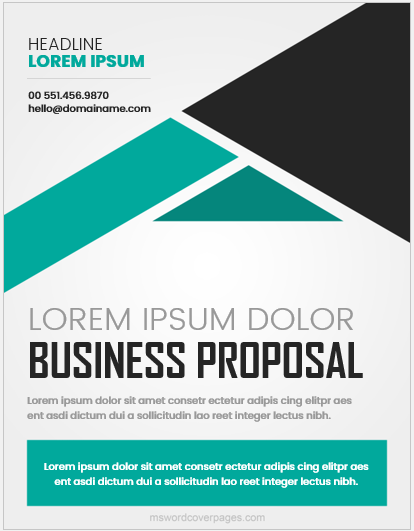 Cover page format: MS Word 2007 | 2010 | 2013
File Size: 979 KB
License: [Only for personal use]
Download
---
#4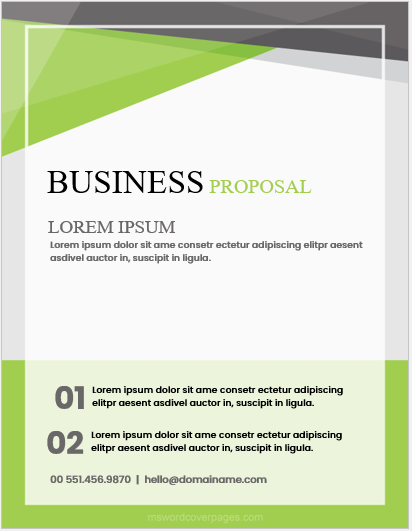 Cover page format: MS Word 2007 | 2010 | 2013
File Size: 979 KB
License: [Only for personal use]
Download
---
#5
Cover page format: MS Word 2007 | 2010 | 2013
File Size: 979 KB
License: [Only for personal use]
Download
---