Students know the place that projects take in their academic work. In some cases, these are added to the final marks of the semester. They are important and need to be done carefully. For a history project, you will take time researching and organizing the facts. It is necessary to arrange this properly so that the reader gets a good impression. The cover page is one of the most important pages of a history project.
What is a history project cover page?
This is the front page of a history project. It has vital information concerning your work. It is short without unnecessary details.
Importance of a history project cover page
The function of this page is that it lets the reader identify your work by simply getting a glance. It can even let your assignments look neat and professional. If you do not add this page and it is required, the teacher will get a negative first impression. You can lose marks due to this. The cover page will protect the project from any dust and leakage that can occur in your bag!
Tips to create a history project cover page:
Cover pages are needed in work that is formatted using APA style rules. The page may even have to be added when following some other popular formatting styles like MLA and Chicago. It is necessary to ask your teacher if a certain style is being followed. The following tips can be kept in mind when making a simple history project cover page:
Include your details
Whichever style you use, you will need to have your name written in full. The class you are in may be required as well. Your institution's name is also important. With the help of these, the teacher will know clearly which student's project they are looking at. The teacher's name must be provided as well.
Details of the project
For a history project, you will have a precise title. This should be written on the cover page. If you have a subtitle add that as well. The title will let the reader know clearly what area of history you are dealing with in the project. They can then focus on this.
Find out what is required
It is important to ask your teacher what is needed on the cover page and if you are allowed to include anything creative. If you spend time making the page pretty and the professor wants something professional, they will be annoyed with you. Usually, professional cover pages are needed for higher classes such as for college, university. But in the case of a fun history project, you may be allowed to format and design this page.
With any cover page, you need to remember to keep it simple and to the point. Do not include much information on it that the reader becomes confused. By simply looking at this page, your teacher must know what to expect from you in the history project.
Sample Templates
#1
Download

[For Word: (.docx) File: Personal Use Only] [Size: 8MB]
---
#2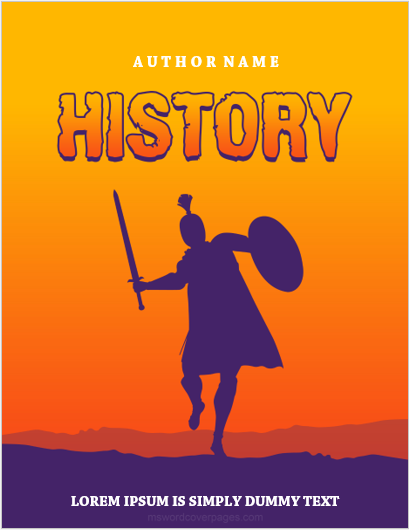 Download

[For Word: (.docx) File: Personal Use Only] [Size: 3MB]
---
#3
Download

[For Word: (.docx) File: Personal Use Only] [Size: 10MB]
---
#4
Download

[For Word: (.docx) File: Personal Use Only] [Size: 4MB]
---
#5
Download

[For Word: (.docx) File: Personal Use Only] [Size: 5MB]
---