The Modern Language Association (MLA) format cover pages are the title or first pages of a document that have been prepared using the MLA style of formatting. There are different formatting styles, such as MLA, APA, Chicago, etc., that are usually assigned as instructions when a document is to be prepared. The variations in the different formatting styles should be clearly followed to avoid any issues with the instructor.
Cover pages that are to be formatted with MLA style need to have the following settings:
Header: In MLA, the cover page has a header that includes Running head, the title of the document and the page number. The top margin of the header is ½ inch and is placed on the upper right corner of the cover page. The header on the cover page is different than the headers on the rest of the pages of the document, as it includes 'Running head' and the internal pages only have the title and page number as a header.
Margins: 1-inch margin on each side: top, bottom, left, right ('normal' setting in Microsoft Word).
Font: Any legible font can be used. Times new roman is commonly used in MLA format, as it is a clear and readable font. Due to it being an inbuilt font in Microsoft Word, the availability of this font is not an issue as well. The 'Bold' option should not be used on the cover page, even not for the title.
Font size: 12 font size is used for all the details present on the cover page, even for the title on the cover page.
Alignment: The text on the cover page has a 'center' alignment.
Line spacing: MLA cover pages should be double-spaced (2.0).
Included information: This may vary as per the supervisor's instructions, but the general details that are added onto a cover page are:

Course name and department.
In MLA formatting style, cover page is not usually asked for, as the details of the author (name and course), supervisor and date of submission are included in the top left corner of the first page and the title goes in the header as well as above the main content of the document.
In this case, there is no separate cover page and the front page is the title or cover page as well as the first page of the document. However, some instructors still demand a cover page, even if the MLA style is to be followed for the document preparation for different reasons.
Sometimes, a cover page may be asked for because of the type of the assignment or nature of the topic, as it gives a professional look and makes a document a formal one. Also, if an assignment is to be submitted to the higher hierarchy of the university, a cover page would always give a good impression.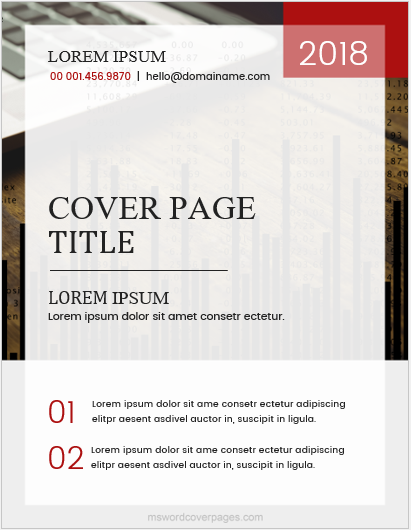 File: Word (.docx) 2007+ and iPad Size 28 Kb |
Download
---