Cover sheet, cover page or title page are different names of the same front page of a document. The university assignment cover sheet is the first page of a student's assignment, which contains the basic information and details of the student, such as name, course, etc., as well as some summarized information regarding the topic and the assignment.
Assignments are given to the university students on a regular basis, which they are expected to complete not just on time, but also with the proper instructions of the supervisor regarding the content and format. Some instructors even provide the instructions about the information that needs to be included on the cover sheet of the assignment.
When preparing a cover sheet, therefore, a student needs to consider a few things, such as:
The students need to remember that the cover sheet is the introduction of their university assignment. This fact indicates the importance of the cover sheet. If it has been properly made, the first impression of the assignment and the image of the student on the instructor would turn out to be good.
If it is interesting, the instructor would want to go through the complete content of the student's assignment and may even generate his interest in the assignment.
The cover sheet needs to be attractive and colors and images used should be content-specific.
Professionalism should not be compromised.
Sometimes, the instructors keep separate marks for the properly prepared cover sheets, which means the students can increase their chances of high scores by presenting a good cover sheet.
The instructions for the assignment and the formatting style that needs to be used for the cover sheet, such as MLA, APA, Chicago, as instructed by the supervisor, need to be properly followed to avoid scores reduction.
When a student is preparing the cover sheet of his university assignment, he can design it himself from scratch or use a template that is available online or in the programs, such as Microsoft Word. If he opts for the second option, he can easily download and customize the desired template as per his requirements.
Different universities, different supervisors, different students, and different topics are the factors that ascertain the details and information that need to be added onto the cover sheet of the assignment, indicating the possible variations in the university assignment's cover sheets. However, generally, the information included on a cover sheet is:
Running head (not in all formats).
Date of submission.
Details of the student. Including name, ID, course, department, etc.
Details of the instructor.
Name and logo of the university.
Title and subtitle of the assignment.
Student declaration to ensure original work and no plagiarism, if applicable.
A comments section for the instructor, if required.
A summarized version of the assignment, if required. 
Another factor that affects the above-mentioned details is the formatting style that needs to be followed as indicated by the supervisor.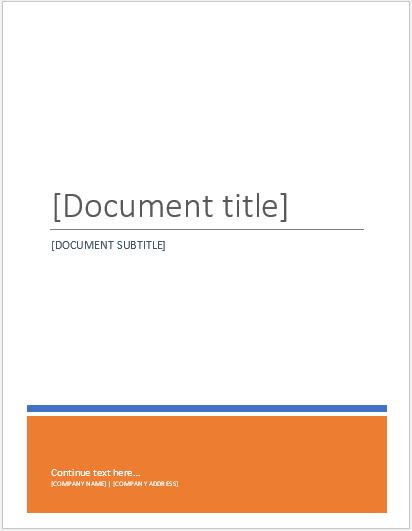 File: Word (.docx) 2007 & later Size — Kb |
View the templates
---