Technical reports are designed to communicate technical information in an easy and understandable format. These reports, like all other reports, are formal and accessible but are descriptive in nature. They are prepared by following a step-by-step procedure.
This document explains the methodology, process, and consequences of a technical problem. To draw attention to a research project, many companies design technical reports, which also serve as the lead source of information about the problem being discussed.
Objectives are described in the report to explain the Why-How-What framework behind the production of the report. It makes it easier for the viewer to know the reason behind it and provides enough material to allow viewers to recreate the same results.
Formal technical reports are a well-organized, complete and detailed description of the work that has been performed. Formal reports can be designed by following a particular format of writing that stands out in comparison with the formats of all other types of reports.
A basic format of report writing has the following contents
Cover page
Title
Abstract
Contents
Introduction
Literature Review
Theoretical Analysis
Methodology
Results
Conclusion
References
While making a technical report, each category requires attention, but most cover pages are designed with the utmost care and deep attention. These covers are first viewed by viewers and cast an impression about the overall report. Based on first impressions, most viewers decide to either read the entire document or ignore it completely. A cover page includes the following information.
Title of Technical report
Name of Institute/Company
Address & Contact
Logo of Institute/Company
Department Name
Name of Presenters
Designation of Presenters
Email/Fax/Address of Presenters
Abstract
Research Duration
Different institutes follow different formats for creating their technical report and its cover. These covers basically decide the future of a particular technical report and therefore, are created with a keen eye. Writing a report also requires a set of unique skills as the data entered in a report should be accurate and results should be in accordance with the previous research.
The following feature should be kept in mind for devising a cover for the technical report and while writing the report,
The vocabulary of the report and cover should be simple. The use of difficult vocabulary should be avoided as it is not understood by every viewer
Choose appropriate font style and size that provide ease of reading to the readers
Use shapes that complement the title of the report
Do not use bright colors
Use images to further explain the report and beautify the cover page
Avoid overloading the cover with texts and images
Provide an appropriate breathing space for the cover
Avoid making spelling mistakes
Avoid making grammar mistakes
Provide functional addresses and contacts of presenters
These cover pages are mostly designed by the researchers to add extra value to their report and make it more significant. Otherwise many websites provide cover templates that can be used and personalized according to the researcher's needs after buying from the website.
The Templates
#1
#2
#3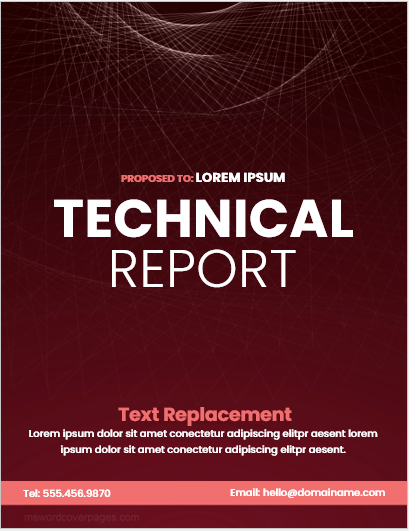 #4
#5