If you are a photographic who wants to work professionally, you need to make a portfolio for your work that should represent your skills and previous work. A photographer needs to display his work and skills to show how effectively he works. For this purpose, he is required to make a portfolio of his photography.
What is a photography portfolio?
A photography portfolio is usually used by photographers to give a representation of their achievements, capabilities, and skills. The sample work is also included in the photography portfolio.
Importance of Cover page of the photography portfolio:
The cover page of any portfolio needs to be designed discreetly because it is a summarised representation of the entire portfolio. Sometimes, the audiences don't have time to go through the entire portfolio. In this situation, they end up watching the cover page and then decide on the basis of it.
Whenever you make a portfolio for submission, you will always be required to make the cover page so that you can come across as a photographer who is well aware of the needs of people in his field.
Tips for creating the cover page for photography portfolio
If you want to create a cover page for your portfolio, you must make it engaging for the reader. Keeping this fact in view, we are going to give you some tips to help you create the cover page for your photography:
1- Choose the design carefully
As a matter of fact, a cover page of the portfolio reflects the portfolio. So, the better cover page you have, the easier it would be to keep the audience engaged in your portfolio. This all depends on the design. Design can attract the viewers and it can also ruin the entire look of the portfolio. Therefore, if you want to enhance the look of your cover page, you will have to choose the design meticulously.
2- Keep it simple
Although you are a photographer and you are well aware of the design part of the cover page, you don't need to adorn the cover page too much. Sometimes, keeping things simple also makes them look more beautiful. if you are a good photographer who has quality work to show, you don't need to show vanity through the cover page.
3- Make a relevant cover page
It is important to keep this fact in mind that the cover page of the portfolio always represents the entire portfolio in a summarised way. So, if your cover page is relevant to your portfolio, it will be more suitable. You should know what the cover page should include. For example, if your photographer is predominantly based on nature, your cover page should also reflect it in its design.
The bottom line
If you need the cover page for your portfolio as a photographer, you will have to work on the design, content, and the needs of the audience who is going to view it.
#1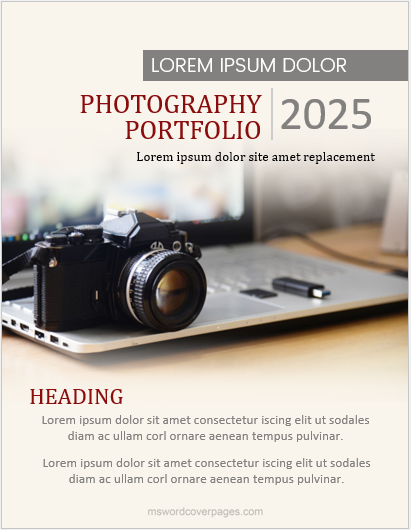 [For Word: (.docx) File: Personal Use Only] [Size: 4204.0 KB]
---
#2
[For Word: (.docx) File: Personal Use Only] [Size: 3204.0 KB]
---
#3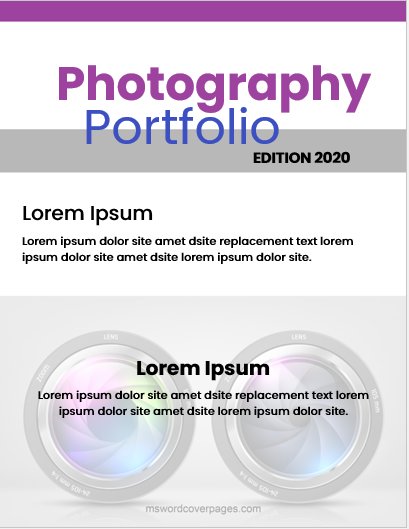 [For Word: (.docx) File: Personal Use Only] [Size: 2204.0 KB]
---
#4
[For Word: (.docx) File: Personal Use Only] [Size: 3204.0 KB]
---
#5
[For Word: (.docx) File: Personal Use Only] [Size: 1204.0 KB]
---