What is an art portfolio?
If you have out of the ordinary interest in painting and another type of artwork, you might be interested in going to art school. To prove yourself someone worth consideration of the art school, you have to prove yourself. The best and easy way to prove yourself is to exhibit the artwork that you have done in the past. For this purpose, you should create an art portfolio that can show your work.
Cover pages of the art portfolio
The most important part of the art portfolio is its cover page. The cover page is the very first page that is seen when someone looks at your portfolio. If you make an attractive and eye-catching cover page, you will be able to draw the attention of people towards your portfolio.
The cover page of the portfolio includes the introductory details of the portfolio. Any person reading the portfolio should be able to know that you have made an art portfolio and its other details.
How to create the art portfolio cover pages?
If you are to submit your portfolio and all that it lacks is an engaging cover page, you should create it forthwith. For creating the cover page of your art portfolio, you should follow the instructions given below:
1- Research for designs
It is quite possible that you may not be aware of the design of the cover page. Owing to this, you might end up making the cover page which does not make any sense. Therefore, it would be beneficial for you to research the designs. Although you are skilled at artwork, you can create an enticing portfolio once you get an idea about its design. So, research for the design and use one which is most suitable for you.
2- Know the requirements of the cover page
It is inevitable for you to create the cover page of your portfolio. However, creating and designing the portfolio includes lots of things to be done. One should know about the requirements of the cover page of the portfolio that are needed to be met to ensure that the portfolio has been made engagingly.
3- Format of the cover page
There is a specific way in which the details of the cover page are shown. Knowing which detail to put where refers to the format of the cover page. Once you have determined the cover page format, you can easily create the cover page in a professional way.
4- Learn about the special requirements
There are some institutes and organizations which want you to meet some special requirements when it comes to designing the cover page. If you don't meet the requirements of those institutes, you are not likely to get the approval. Therefore, before you send your art portfolio with the cover page, know your audience, and draft your portfolio's cover in such a way that it meets the needs of the audience.
#1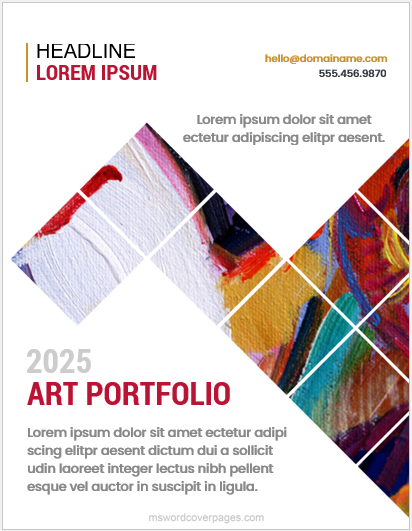 [For Word: (.docx) File: Personal Use Only] [Size: 6204.0 KB]
---
#2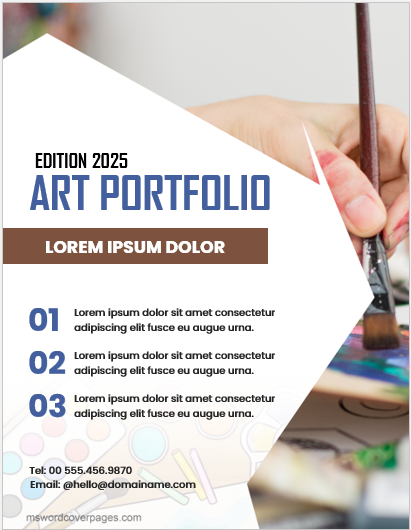 [For Word: (.docx) File: Personal Use Only] [Size: 3256.0 KB]
---
#3
[For Word: (.docx) File: Personal Use Only] [Size: 3462.0 KB]
---
#4
[For Word: (.docx) File: Personal Use Only] [Size: 6204.0 KB]
---
#5
[For Word: (.docx) File: Personal Use Only] [Size: 3278.0 KB]
---