A car magazine is a collection of beautiful and premium cars from different brands. These magazines are published for all the car lovers who love to see car pictures or those who are finding it difficult to decide on which car they should buy next.
The cover page is the first page to be seen by the person interested in viewing different pictures of cars. Since people who publish these pictures want to get the attention of the reader, they are required to work on the cover page as if it is their top priority.
Why is a cover page important?
The cover page of a magazine is magical if it is designed in the right way. It tends to create curiosity in the mind of the reader and it propels the user to buy that magazine so that he can read the inside content out of curiosity. All those publishers who want to increase the sales of their content generally work on the cover page as much as they do on the inside content.
Best car magazine cover pages design tips:
Use a suitable template:
One of the best and easiest ways to design a cover page without any hassle is to use the template. You can easily find numerous cover page templates which have been designed considering the preferences and design choices of different publishers. The template should be following the magazine's domain and requirements.
Work with layout:
The layout of the cover page is very important. When you have a specific layout in your mind, you will be able to organize different elements of the magazine. This way, the overall look of your published car magazine will be neat.
The layout is also very important for printing purposes since you take the page layout and margins into account while you are printing the cover page.
Put the title in a right place:
Some people make the mistake of not putting the title of the magazine in the most obvious place on the cover page. The reader often gives a glance at the magazine cover page. It is your job to decide what and how much you want to showcase at that first glance. Many authors and publishers want the title to be seen first so that they can create brand awareness.
Make use of powerful words:
Words have tremendous power. You can create a desirable impression if you effectively make use of words. Your car magazine cover page should use words that compel the reader to read the entire magazine.
The use of strong words will enable you to make a very attractive cover page that will allow you to stand out. Remember that the more you keep people connected, the more you will be able to increase the sales of your magazine. Try and test different design ideas to come up with the best design scheme.
Word Templates
1
2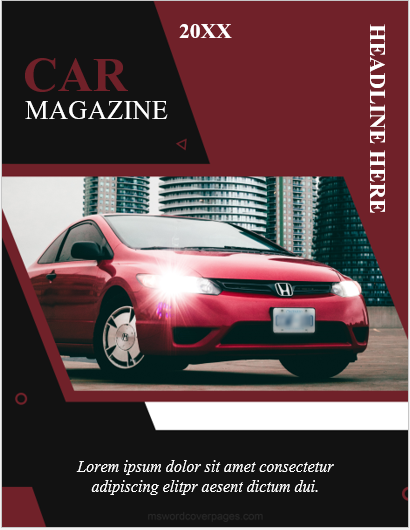 3
4
5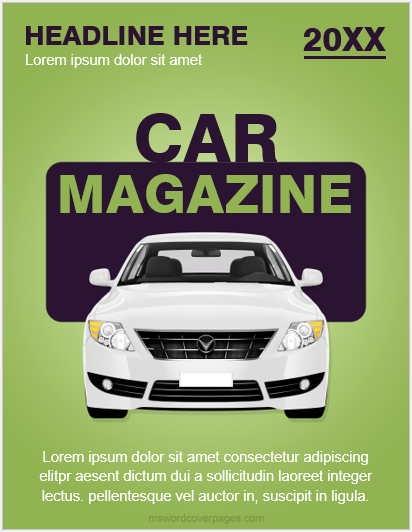 6
7
8
9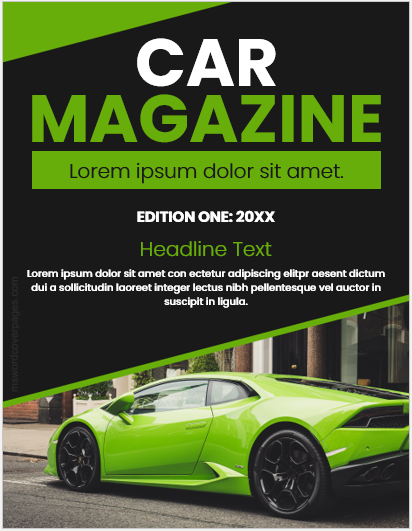 10