Companies lay their foundation on a set of ground rules that help them navigate through hundreds of employees as well as clients. Setting up a business can be easier but maintaining that business and making it successful is a very difficult task and every business use various marketing strategies to stay relevant in the business. These marketing strategies are also used for securing more and more projects from potential clients.
Compile as a portfolio…
All the projects entertained by a company are organized in a company project book that is compiled as a portfolio of the company. It is presented to potential customers to overview the accomplishments of the company. These project books may be one or more depending on the organization's criteria. Every company takes great pride in these project books because they are the representatives of the company's efforts for a very long period of time.
The company project book is managed by editors, hired specifically for this purpose. They are well informed about the company's progress and day-to-day projects so that everything complies with the project book. Project books are always prepared so that they can be represented when in need. These books are categorized to include related projects.
Title pages…
A cover page is a title or first page of any document that provides titled information about the document. These documents may include assignments, projects, books, or any other sort of writing. It is crucial to design a related cover page of the document in an official setting because these documents are formal and are presented in an official manner.
The cover page of the company project book provides information about the title and other related details. It does not explain any terms but is kept minimal and simple.
Design by professionals…
Cover pages are plain and basic to give a professional outlook. These pages are either designed by editors while managing projects or the company may hire graphic designers for more professional reasons. Either way, because of their official nature, cover pages are designed very carefully to avoid embarrassing situations.
Some tips that should be followed while designing a company's project book cover page are given below,
Keep the cover page simple and relevant so that it can be presented to clients when requires.
Appropriately add basic details about the company.
Do not provide too much information because it ruins the concept of a cover page.
Enlist all the projects included in the project book to make it easier to navigate a particular project
Proofread all the spellings to avoid any mistakes.
Do not use funky or bright colors because they do not complement the official theme.
Use pastel colors with various gradient options.
Do not add pictures to the cover page because the topics included in the project book can be diverse.
Basic details…
Contents of the project book cover page may vary from one company to another, but the major idea revolves around the basic details of the document. Some of the general contents of the company project book are provided below,
Title of the document
Name of company
Logo of company
Contact information
Social media platforms
Name of editors
Editable Templates with MS Word
1-
2-
3-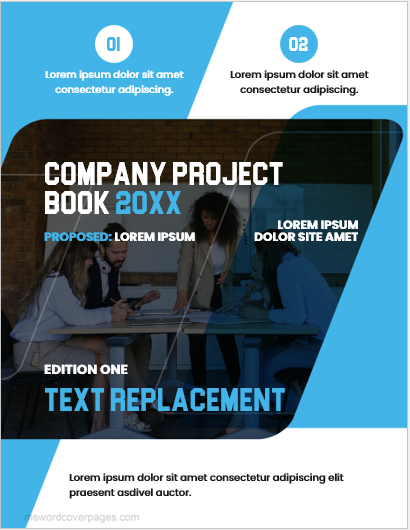 4-
5-