A minimalist cover page is defined as an introductory page of a book with fewer graphics and subtle use of colors. These days, minimalism has conquered our minds because of so much glamour around us and now we feel attracted to the things that are simple and elegant. If you look around, you will find many simple and basic cover book designs to incorporate into your book cover.
How important it is to have a book cover with minimum design:
As a matter of fact, a cover page of a book has a huge impact on the success of the book. If you are an author and you write books, making your books best-selling must be your priority. People most probably will judge your book by its cover. So, if you have managed to make an inspirational and attractive cover page with minimalism in its base, you will be able to sell your books more appropriately.
What does a minimalist book cover look like?
A cover page with minimalism is generally defined by its simple design. It doesn't include big and colorful images. The content of this type of cover page is also less. Gone are the days when people used to think that they need a cover page that says a lot about a book.
However, now people believe that if they show less content on the cover page, they are likely to make people more easily convinced to flip through the cover page and read what's inside it.
How to design a minimalist cover page?
Get inspired:
Designing a cover page with subtle design and minimum content is very easy. All you need to do is get inspiration. Mostly, this inspiration comes from the content of the book. If you are unable to do it, you can get inspiration from an online source.
Decide on what to represent:
Even though the cover page of your book is going to look simple, you will still need to decide what to showcase on the cover page. Whether it is a simple candle or a graceful image of an autumn leaf, it all depends on you how you represent it. The style should be such that the reader feels happy showcasing it on the bookshelf of his room.
Add minimum content:
When you add the content, you don't need to follow conventional books' covers. A cover page of a traditional book includes all the basic details such as the title of the book, date of publication, name of the author, and much more.
A minimalist cover includes minimum details that are useful for the reader. The reader will go through the cover page and then flip through it to read what's inside it.
Use a template:
Different templates are provided with thousands of design ideas. These designs are for people looking for inspiration and motivation. It also saves their time because they don't waste their time thinking about a unique minimalistic style.
#1
#2
#3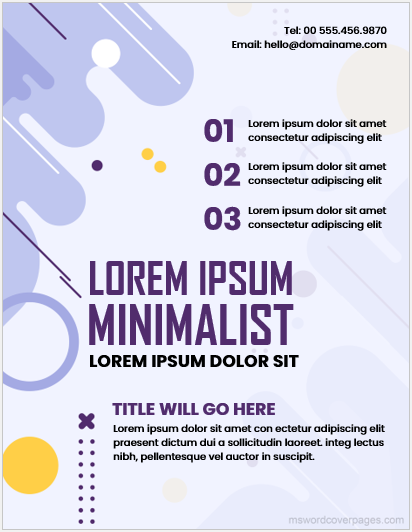 #4
#5