School-going children are often made to work with their teachers and other fellows to finish an art project. The purpose of initiating these projects is to let their inner talent come out. Furthermore, it keeps children distracted and entertained, especially those who have stopped taking interest in their studies out of boredom.
A school organizes various science and arts programs in which students are required to showcase their tastes and knowledge in the respective project. Some of these projects are part of a student's study plan while some are based on personal interest and what a student opts for in his leisure time.
An art project in a school reflects a student and the hard work he has put in. Generally, people judge a project by looking at its front page which is usually a most prominent part of a project. Therefore, students are required to pay attention to the front page also.
Templates
#1
#2
#3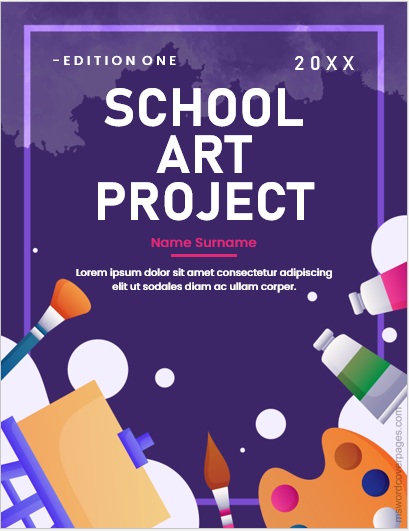 #4
#5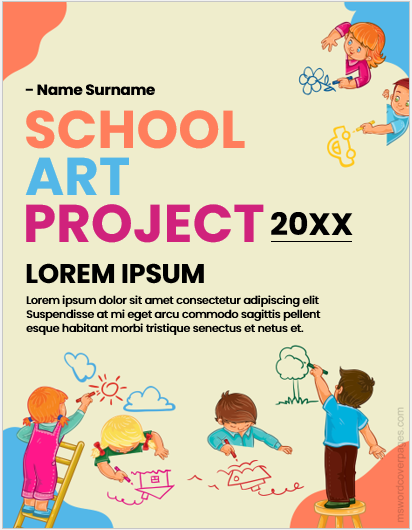 What information is displayed on the front page?
A front page needs to have all those elements that are necessary for a person to get enough information about an art project at a first glance. Here are the key details:
Name of the school:
School art projects are made under the supervision of teachers hired by a school. In some cases, the school also funds these projects just for the sake of bringing confidence to students. So, these art and craft projects are strongly associated with the school. A student should never forget the name of the school.
Details of the student:
The front page should clearly describe who this given project belongs to. Therefore, mention the name of the students who have participated in completing the project. If there is teamwork in completing a project, mention the name of every person involved in the team. Not mentioning the name of every student will end up discouraging them.
Title of the project:
Every project has a unique title that best describes that artwork. You should never take this information for granted and look for a suitable place where you can demonstrate the name of the project. If you are making this project because you want to exhibit it in an art exhibition, then you will need to be more careful because a captivating title will help you get the attention of people.
Date of project completion:
A project becomes the main part of the school's document, and some schools also display it on the walls. The date tells when the project was made.
Little attention will reward great
Everyone knows how important it is to design a front page with diligence and care. Those who don't pay attention to the front page fail to represent their art project convincingly and therefore, their project does not get attention.
So, their teachers and everyone suggest that they design a cover page with an attractive design. It is not difficult for students to create a cover page that stands out because they can easily demonstrate their artistic skills on the front page also. However, some students cannot design it. In this situation, a template can be very helpful for them.
Why it is good to use the templates?
It gives inspiration:
Sometimes your mind is completely blank when you are trying to design a front page that is beautiful and captivating. In such a situation, a template comes with plenty of inspirational ideas.
They are for everyone:
Whether your students are at the early school level or in senior classes, these templates provide the front page of every kind. Even teachers who are helping their students in completing the project also get plenty of inspirational ideas based on the level of the studies.
They help a student use a theme of their choice:
Some students want to demonstrate their project as a cool art project while some choose to make their project come off as a decent and contemporary art and design project. The template helps them choose a design for the cover page.
See more pages…