A school project needs to be neat, tidy, and presentable. It may be just a single page or a longer assignment. Regardless of the number of pages, every written school assignment must have a front page. It shows how presentable your work is.
Here is all you need to know about front-page designs for your school science projects.
Purpose of the Front Page
The front page is where you write your name, grade, and the title of the project. In other words, this page provides comprehensive information about what the assignment is about and who has done it.
All the information provided on the front page should be legible in a large font. You may use bold and italic styles for the font to emphasize the title. Remember, the front page provides concise information about your project and yourself. Anyone should be able to read this information at a single glance.
Types of Front Page
There are two types of front pages – handmade and printed. It depends on the assignment if you should go for a ready-made printed one or create it yourself.
Important Information
It has already been established that the front page provides the necessary information about the project and the student. Avoid providing any details other than the title. There should be no summary, findings, conclusion, or table of contents on this page. A front page is simply a "title page". You should include only the following on this page:
Name
Grade and Section
Name of your institute
Name of your science teacher
Submission date
Design Ideas
There are many school science project front page designs. You can design one using your own imagination and creativity. Alternatively, you can take inspiration from a plethora of ideas available online.
For junior grades, the front page may be colorful. Young students can make their own drawings for an assignment that stands out. Similarly, the colored font can be used for the title and student's name. On the other hand, if it is a more formal project, the color theme should be monochromatic. You may include diagrams and figures that are relevant to the title of the project.
How to Create your Front Page
You can create an eye-catching front page for your science project using the following ideas.
Customized Handmade Front Page
If you don't have access to a printer, make your own customized front page. You may use different art materials like colored markers, crayons, or paints to create an attractive design.
Many websites offer free templates that can be used to create a front page in no time. The general layout has already been created for you. All you have to do is fill in the important information. This option provides formal front-page designs which are appropriate for serious projects.
Creating a Cover Page in MS Word
MS Word allows you to create a front page in no time. You have various layout options to choose from. Simply insert the layout, add your own text, and you are done.
Keeping all this information in mind, designing a front page for your next assignment will be simple and quick.
Templates
#1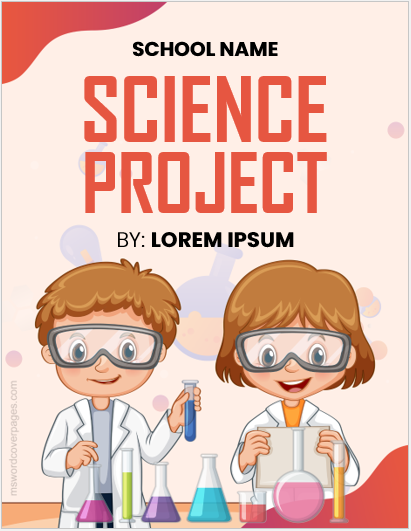 #2
#3
#4
#5
More Templates