A report is a document that explains the details of any event, situation, or function. The detailed description is analyzed and reviewed to draw an inference therefore, reports are given special attention. Therefore, these reports are written and arranged by professionals and are then forwarded to the higher authority. It is a formal document and is explanatory in nature as it describes its content.
Tax is described as the money people pay to the government in a prescribed ratio. The government uses this money to run its institutions such as Army, hospitals, schools, and others. The tax money is used to pay the salaries of government employees and give allowances. In addition, all our roads, bridges, sewers, and other essentials are taken care of by government employees, and we do not have to worry about it.
For instance, income tax is the amount of money that you are supposed to pay to the government from your income. Its ratio depends on the income received and includes other attributes such as rent from properties, saving amount on cash at bank, and others. The ratio of income tax may start from 13% and can reach as high as 37%.
A tax audit report is a report submitted by professionals after reviewing all the documents of your tax. These audit officers search for discrepancies in the documents and actual tax paid by the citizen. Most of the individuals pay with the government by submitting false documents highlighting that they have paid tax while they do not pay. Audit officers oversee finding the culprits and making sure they suffer consequences.
The report presented by audit officers to their respective departments are highly confidential and is a formal document. It describes the discrepancies in detail and highlights issues related to tax payment. The cover page or title page of these reports are simple as they are submitted to higher administration so they should be taken seriously.
Cover pages are the highlights of any document as they create an image of the contents of the document in the mind of the reader. If the image is appealing, only then the document will be looked into by the reader. The cover page of different documents may vary but the content mentioned is similar with a few variations.
Cover page of the tax audit report provides the following information,
Name of the Audit officers
Rank of officers
Location of audit
Name of the taxpayer
Address of taxpayer
Contact information
Department of submission
Name of submitting officer
Contact information of department
Being an official and formal document, these pages are much simpler, and care should be taken while designing these pages. Some of the guidelines that should be kept in mind are mentioned below,
Use appropriate and readable font size and style
Do not use funky or vibrant colours on the page
Do not provide too much information as the cover page will not serve its purpose of being concise
Review the document and title again to avoid mistakes
Sample Templates
#1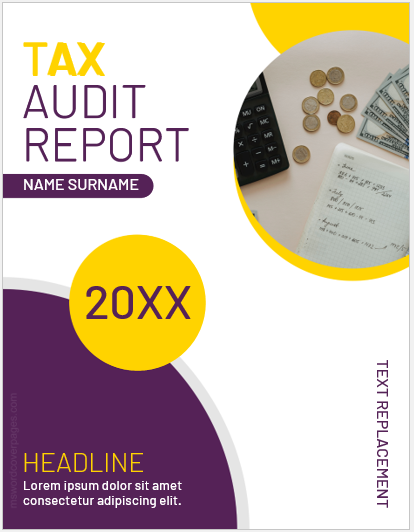 Download

[For Word: (.docx) File: Personal Use Only] [Size: 5MB]
---
#2
Download

[For Word: (.docx) File: Personal Use Only] [Size: 5MB]
---
#3
Download

[For Word: (.docx) File: Personal Use Only] [Size: 6MB]
---
#4
Download

[For Word: (.docx) File: Personal Use Only] [Size: 7MB]
---
#5
Download

[For Word: (.docx) File: Personal Use Only] [Size: 7MB]
---